Posts for: January, 2013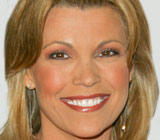 Here's an interesting tidbit of information on Wheel of Fortune host Vanna White: like many people, she grinds her teeth at night. In a detailed interview with Dear Doctor magazine, Vanna explained how she had to replace a filling in a back tooth several times because of her grinding habit. Eventually, she had her dentist make her a nightguard to protect her famous smile.
"I really try to sleep with it every night," Vanna told the magazine. "I try to keep it on my nightstand so when I go to bed, I remember to put it in. Or I will put it by my toothbrush so I can put it in after brushing my teeth at night."
The habit of teeth grinding or clenching is often associated with stress and/or sleep deprivation. It is referred to as "parafunctional" ("para" – outside, "function" – normal), meaning it can generate biting forces well outside the normal range — perhaps 10 times normal. This excessive force can affect many areas of the oral system. Teeth may become worn, chipped or loose; jaw joints or muscles can go into spasm; and some grinders (or "bruxers" as they are also called) may even experience discomfort of the head, ears, neck or back. Many times, a person with a grinding habit does not become aware of it until it is pointed out by a sleep partner or dental professional.
Like Vanna White's dentist, we often recommend a nightguard to those with nocturnal bruxing habits. It is made of a very thin, wear-resistant plastic that fits over the biting surfaces of the upper teeth only. The lower teeth are then free to glide or skate over the guard, which prevents them from biting into the upper teeth. Some people wear their guards during the day if they tend to clench their teeth when under stress.
If you are concerned about teeth grinding or interested in learning more about nightguards, please contact us today to schedule an appointment for a consultation. If you would like to read Dear Doctor's entire interview with Vanna White, please see "Vanna White." Dear Doctor also has more on "Stress & Tooth Habits."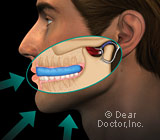 Nearly everyone who has ever played a sport, or had a child participate in one, has had that panic-filled moment when they witness an injury. And when you consider that there are more than 22,000 dental injuries each year in children younger than 18 years of age, you see there is fact to backup this concern. This is just one reason why we strongly encourage all of our patients who are involved in activities such as football, soccer, hockey, wrestling, lacrosse, skateboarding, field hockey and more to wear one of our custom-fitted professional mouthguards. It is especially true for basketball and baseball, which are responsible for the largest number of dental injuries.
The following are some key issues to help you understand the importance and advantages mouthguards offer.
Is there a way to determine who is at the highest risk for sports injuries?
Yes there are several. Age, gender, dental anatomy, and the type of sports being played are the four categories used to measure the risks for dental injuries. Young male teens still top the list of most likely to be injured; however, the gap is closing with more females getting involved in sports. Learn which sports or exercise activities made the American Dental Association's list of recommendations for using a custom mouthguard, when you continue reading "Athletic Mouthguards."
What's the difference between a "boil and bite" mouthguard and a professionally made mouthguard?
We are often asked this very important question. While some over-the-counter (OTC) mouthguards provide what is advertised as a "custom-fit" to your teeth, it is nowhere near the fit — and thus protection — you receive from our mouthguards that are crafted from precise molds of your teeth. Additionally, because all aspects of our mouthguards are tailored to each specific mouth, they provide much more protection and comfort. This important fact can enhance performance as the athlete can literally breathe easier while wearing one of our mouthguards.
What can I do if I witness a dental injury?
The first important fact to know is that you do not have to be a dental or healthcare professional to assist. However, before jumping in to help out, consult Dear Doctor's Field-Side Guide to Dental Injuries. This pocket-sized, quick-reference guide details what you should do at the scene of a dental injury based on the type of injury. But best of all, it is available to you free of charge from Dear Doctor.
Want to know more?
Contact us today to discuss your questions or to schedule an appointment.