Posts for: February, 2013
Perhaps you've seen Nate Berkus on The Oprah Winfrey Show or watched his television program, The Nate Berkus Show. You may even have read his best-selling book, Home Rules: Transform the Place You Live Into a Place You'll Love. Regardless of where or how you discovered Berkus, you will surely have noticed his dazzling smile.
Berkus recently opened up about the facts behind his trademark smile during an interview with Dear Doctor magazine. First off, his smile is totally natural, as he never wore braces or had any cosmetic work, including porcelain veneers. However, Berkus does give credit to his childhood dentist for the preventative healthcare he received as a young boy. "I'm grateful for having been given fluoride treatments and sealants as a child," he said. Nate also shared the important flossing advice he learned from his dentist that he still follows today: "Floss the ones you want to keep." Berkus went on to say that he feels, "healthy habits should start at a young age."
And we totally agree! For this reason we have put together the following list of facts and oral hygiene tips:
Over 50% of plaque accumulation occurs in the protected areas between teeth — a place that may be difficult or even impossible to reach with a toothbrush.
A thorough brushing may take up to two minutes at first, and it may feel awkward as you reach some places in your mouth.
Remember, more is NOT always better! Brushing or flossing too hard can be damaging to your teeth and gums. And never saw back and forth with your floss.
To learn more about oral hygiene, including brushing and flossing techniques, you can continue reading the Dear Doctor article "Oral Hygiene Behavior - Dental Health For Life." Or you can contact us today to schedule an appointment so that we can conduct a thorough examination, review your brushing and flossing techniques, and discuss any questions you have as well as treatment options. As needed, we will work with you to teach you the proper brushing and flossing techniques so that you feel confident before you leave our office. And to read the entire interview with Nate Berkus, please see the Dear Doctor article "Nate Berkus."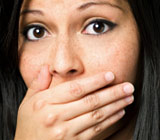 In today's fast-paced society, nearly everyone is looking for reliable solutions to resolve problems almost instantly. Unfortunately, in many situations, bad breath cannot be cured that quickly. This is why we want to provide you with the following rules of thumb for treating your bad breath.
Use a soft-bristled brush and a proper technique to clean your teeth at least twice a day, in the morning when you wake and before you go to bed.
Floss your teeth at least once daily to remove the bacterial plaque and food particles between your teeth, as these are two known causes of bad breath and tooth decay.
Clean your tongue, as it can often be the main culprit with too many odor-producing bacteria living on its surface. To clean your tongue, use a tongue scraper obtainable from a local drug or discount store, or brush your tongue with your toothbrush. Remember, a healthy tongue should be pink in color and not have a yellowish or brownish coating.
Chew a sugar-free gum that contains xylitol, a natural, sugar-free sweetener that actually has been shown to help prevent caries (cavities) while improving your breath.
Change your eating and drinking habits. Drinking plenty of tap water will not only keep your mouth hydrated (a dry mouth is another cause of bad breath), but it also can help prevent caries if you live in an area with fluoridated water. And by adding plenty of crunchy fruits and veggies such as carrots, celery and apples, you stimulate the production of saliva; thus keeping your mouth moist and rinsed out.
And last but not least, you can contact us today to schedule a consultation for an examination, cleaning and treatment plan. Or, you can learn more when you read the Dear Doctor article, "Bad Breath — More Than Just Embarrassing."