Posts for: April, 2013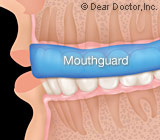 Participating in athletic activities offers numerous well-documented health benefits — not to mention instilling the intangible values of discipline, teamwork and goal-setting. Of course, in nearly every sport, the possibility of injury exists as well. But don't let that stop you or someone you love from playing! Instead, you can learn about the potential hazards of dental injury, and take some practical steps to minimize the risk.
It should come as no surprise that injury to the mouth is an ever-present possibility in so-called "collision" sports like football and ice hockey. But did you know that the greatest number of dental injuries result from the games of baseball and basketball, which are often played informally? Even non-contact sports like skiing, bicycling and skateboarding carry a real risk of injury.
Who suffers dental injury? Men are slightly more likely than women — but only by a small percentage. Injury peaks in the teenage years, and seems to decrease afterward — but older athletes tend to have more severe problems. In short, most anyone who participates in sports is subject to possible dental injury.
Besides the obvious aesthetic imperfections, a damaged or missing tooth can also result in functional problems with the bite — a potentially serious condition. If a tooth can't be immediately replanted, restoring it can be expensive: The total cost of each tooth replacement is estimated at $10,000-$20,000 over a lifetime. So tooth damage or loss can cause a multitude of troubles.
The American Dental Association (ADA) has recommended that participants in all of the sports mentioned above — as well as two dozen others — should wear a custom-fitted mouthguard. Why? Because when it comes to dental injury, an ounce of prevention really is worth a pound of cure.
Numerous studies have shown that wearing a custom-fitted mouthguard is an effective way to prevent dental injury. According to the Academy of General Dentistry, mouthguards prevent some 200,000 injuries each year. And the ADA says that athletes who don't wear mouthguards are 60 times more likely to sustain harm to the teeth than those who do wear them.
Off-the-shelf mouthguards in a limited range of sizes are available at many sporting-goods stores. But these can't compare to the superior protection and durability offered by a mouthguard that's custom-made just for you. Using an exact model of your teeth, we can individually fabricate a piece of protective gear that fits correctly and feels comfortable in your mouth. A custom mouthguard may be more economical than you think — yet its real payoff comes in preventing dental injury.
If you have questions about mouthguards or sports-related dental injuries, please contact us or schedule an appointment for a consultation. You can learn more in the Dear Doctor magazine articles "Athletic Mouthguards" and "An Introduction to Sports Injuries & Dentistry."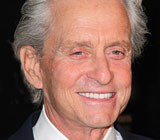 Actor Michael Douglas shocked TV audiences across the country when he announced on the David Letterman Show in 2010 that he has stage IV oral cancer. Fortunately, the cancer had not spread and his radiation and chemotherapy treatments were successful. This year, Douglas teamed up with the Oral Cancer Foundation to warn others about the dangers of the disease and the importance of early detection. In particular, he wants younger people to know that even if they don't smoke and drink a lot, as he admitted to Letterman that he did, they are still at risk.
As Douglas states in a PSA he made with the foundation, "the fastest growing segment of the people developing oral cancers are young, non smokers." That's due to a strain of the Human Papilloma Virus known as HPV16 that can be transmitted through oral sex. So it's important to avoid risky sexual behaviors and to be screened regularly for this devastating disease that claims one life every hour in the U.S., according to the Oral Cancer Foundation.
An oral cancer screening is a simple visual and tactile exam done right here at the dental office. We will feel your neck for lumps and inspect your lips and all inside surfaces of the mouth, including the back of your throat, for any suspicious signs. If any are found, a biopsy (laboratory analysis of a tissue sample) can be ordered.
Most oral cancers are "squamous" (small scale-shaped) cell carcinomas that occur in the lining of the mouth and are often preceded by recognizable changes (lesions) of the oral membranes. White or red patches begin to form in the pre-cancerous stage, and as the cancer develops, a non-healing ulcer may appear. If you notice any such changes in your mouth, please let us know.
Michael Douglas ends his PSA with the following plea: "So please, the next time you visit your dentist or your medical doctor, ask for this simple screening. Finding oral cancer in its earliest stages may save your life." We agree, which is why we always perform this screening during your regular dental check-up. If it's been a while since your last appointment, please come in and see us.
If you would like more information about oral cancer, please contact us or schedule an appointment for a consultation. You can learn more about the disease in the Dear Doctor magazine article "Oral Cancer."