Posts for: July, 2013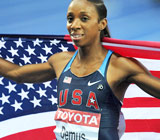 Lashinda Demus holds the U.S record in the 400 meter hurdles, with a time of 52.47 seconds, the third fastest ever recorded. While her twin 5-year-old boys cheered her on, she brought home a silver medal from the 2012 London Olympics. But when it comes to her full set of upper and lower braces, there's no silver to be seen!
Demus is a top-ranked competitor, a wife and a mom — and an adult who is currently in orthodontic treatment. With her orthodontist's approval, she chose clear ceramic braces. These are just one of the treatment options available to adult patients, many of whom prefer a less noticeable style of orthodontic appliance.
As many as three-quarters of adults are thought to have some form of orthodontic problem. Common issues include teeth that are crowded too closely together, or ones that have drifted too far apart after an extraction or other tooth loss. It is believed that straightened teeth are easier to clean and better for chewing — they can also improve an adult's social life, and even his or her career prospects!
Some grown-ups may hesitate to consider orthodontic treatment because they remember the "railroad tracks" they saw in junior high school. In fact, there have been many changes in orthodontic appliances in the past few years. Two popular choices for adults are colorless braces (the kind Demus wears) and clear orthodontic aligners.
Colorless ceramic braces are made of high-tech composite materials. They resist staining, and are less noticeable because their translucent appearance blends with the teeth. Often, a single wire is the only part that's plainly visible. Sometimes it's even possible to place them on the lingual (tongue) side of the teeth.
Clear aligners are an alternative to braces that are available to adults and teens. Instead of wires and attachments, these consist of a series of transparent, removable trays that are placed over the teeth and worn 20 hours per day. Over a period of six months to two years, the teeth are gradually straightened as you progress from one computer-designed tray to the next. Best of all, you can remove the trays completely to clean your teeth, and for important occasions.
Which one is right for you? It depends. While aligners have been successful in treating mild to moderate spacing issues, more difficult problems with the bite may require a more traditional form of braces. Also, there are a few health problems which might need to be attended to before orthodontic treatment is begun. The best way to learn about your options is to come in for a consultation. But remember: if you want a better smile, it's never too late.
If you would like more information about orthodontic choices, please contact us or schedule an appointment for a consultation. You can also learn more by reading the Dear Doctor magazine articles "Orthodontics For The Older Adult" and "Clear Orthodontic Aligners."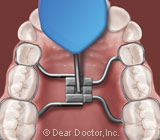 Have you heard of palatal expanders? If your child needs orthodontic work, then you ought to hear about them! These small appliances offer plenty of advantages to kids whose smiles, due to a variety of problems, may need some help. Here are five things you should know:
1. Palatal expanders are small orthodontic appliances that fit inside the mouth.
Custom-fabricated for each child, these devices are placed near the roof of the mouth, in between the two rows of upper teeth. They consist of two small metal brackets with a tensioning system that can be adjusted by a tiny key. Not everyone needs one, but they can really benefit kids with certain orthodontic conditions.
2. Palatal expanders take advantage of a child's natural growth processes.
That's part of the reason they work so well. Since the bones of a child's upper jaw don't fuse together until sometime after puberty, it's relatively easy to move them apart before that time. The palatal expander applies gentle pressure to gradually move the left and right halves of the upper jaw apart, over a period of a few months. Then it's left on several weeks longer, allowing new bone to fill in and stabilize the expansion.
3. Palatal expanders are helpful in treating a variety of orthodontic problems.
Crowding — that is, not having enough space in the jaw to accommodate all of the teeth — is one major issue. A related issue is impacted teeth: These are teeth that are blocked from coming in (erupting) by other teeth or jaw structures. A third issue is crossbite: That's when the back top teeth come down to bite inside, rather than outside, the bottom teeth. Gaining additional space in the upper jaw can help relieve all of these problems.
4. Palatal expanders can eliminate the need for tooth extraction.
Once upon a time, extraction was the only way to solve these problems. However it's an invasive (and potentially complex) procedure. A palatal expander can often provide the same — or better — results, via a noninvasive method.
5. Palatal expanders typically shorten overall orthodontic treatment time.
They're generally worn for a total of three to six months, but they can considerably shorten a child's overall orthodontic treatment time. Plus, they're invisible — a big plus to image-conscious teens. Could they benefit your child?
If you have questions about palatal expanders, please contact us or schedule an appointment for a consultation. You can learn more in the Dear Doctor magazine articles "Palatal Expanders" and "The Magic of Orthodontics."