Posts for: November, 2013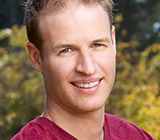 If you follow the hit TV reality show Amazing Race, you know that professional-hockey-playing brothers Bates and Anthony Battaglia won the $1 million prize in the latest globe-spanning competition. You may also have witnessed Anthony removing his false front teeth from time to time — like when he had to dive for pearls in Bora Bora. Since he plans to resume his sports career, Anthony wears a partial denture to fill the gap in his classic "hockey mouth." He has said that when he finally hangs up his skates, he will use some of his Amazing Race prize money to get new, permanent teeth. When it's time to get that new smile, Anthony, like many people, will have to choose between two good options for permanent tooth replacement.
The preferred option for most people is dental implants. In this system, tiny titanium posts substitute for the root part of your missing tooth (or teeth). These are placed beneath your gum line in a minor surgical procedure we perform right here at the dental office. The amazing thing about dental implants is that they actually fuse to your jawbone, allowing your replacement teeth to last a lifetime.
The titanium implant itself is not visible in the mouth; the part of an implant tooth that you see is the lifelike crown. Virtually indistinguishable from your natural teeth, the crown is attached to the implant above the gum line. Dental implants can be used to replace a single tooth, multiple teeth, or even all your teeth. You don't necessarily need one implant for every tooth because implants can support bridgework or even a complete set of prosthetic teeth.
The second-best option is a natural-tooth fixed bridge. In this system, we use healthy natural teeth on either side of the empty space left by a missing tooth (or teeth) as supports for one or more of the prosthetic teeth that will fill the gap. The downside is that in order to turn these healthy teeth into supports (which are referred to in dentistry as "abutments"), we need to remove some enamel and then cap them. This procedure can leave those teeth more prone to decay than they were before. But with regular dental exams and good oral hygiene on your part, bridgework can last many years.
Which system is right for you? That's a question we would be happy to help you determine... even if you haven't won a large jackpot or gone pearl diving in Bora Bora. If you've been looking forward to the day when you can have permanent replacement teeth, why wait? Contact us or schedule an appointment for a consultation. We will help you find your ideal solution to the problem of missing teeth! For more information, please see the Dear Doctor magazine articles "Dental Implants vs. Bridgework" and "Dental Implants: Your Third Set of Teeth."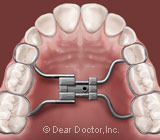 Is there a single orthodontic appliance that can help your child get a wider, better-looking smile, correct problems with the bite, make room in a crowded upper jaw for new teeth to erupt (come in)... and shorten the overall time he or she will need to wear braces? The answer is yes: It's the palatal expander, a device that works with the natural growth patterns of a child's mouth, and offers dramatic results.
What's a palatal expander? Basically, it's a custom-made orthodontic appliance that fits between the rows of back teeth at the top (roof) of the mouth, close to the palate. After it has been put in place, it can be tensioned with a special key. Because it is contained inside the mouth, it's invisible when worn — but its benefits are easy to see.
How does it work? The palatal expander takes advantage of the fact that the left and right halves of a child's upper jaw bone don't completely fuse (knit together) until sometime after puberty. Until that happens, the upper jaw is relatively soft and easy to manipulate. When tension is applied, the palatal expander gently moves the bones apart, just like braces do for teeth. Then new bone tissue naturally fills in the space.
The appliance is tightened daily for a few weeks — while spacing improves dramatically — and then it's left on for several weeks more to stabilize the expansion. The total time a child needs to wear it is generally 3-6 months. After that, a set of braces can be put on if needed. So, what's so great about a palatal expander?
For one thing, the device can correct a crossbite, which occurs when the back top teeth bite inside (instead of outside) the bottom teeth. For another, expanding the upper jaw can relieve the condition known as crowding, which happens when the jaw isn't big enough to accommodate all the teeth. A related situation — impacted teeth — occurs when a tooth that hasn't yet erupted is blocked by another tooth above it. Both these conditions formerly required tooth extraction: an invasive and sometimes complicated procedure. Both can now be remedied by a palatal expander.
But maybe the biggest plus to a youngster — where a month can seem like an age — is the prospect of having to wear braces for less time. And that alone is a good reason to smile.
If you have questions about palatal expanders, please contact us or schedule an appointment for a consultation. You can learn more in the Dear Doctor magazine articles "Palatal Expanders" and "The Magic of Orthodontics."