Posts for: December, 2013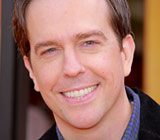 The lengths that some comedians will go to for a laugh! Actor Ed Helms, as dentist Stu Price, pulled out his own tooth in the movie The Hangover. Or did he? Turns out Helms really is missing a tooth, which never grew in. When he was in his late teens, he received a dental implant to make his smile look completely natural.
Helms told People magazine he wasn't exactly eager to remove the implant crown that had served him so well for almost 20 years, but there was no better way to do the famous tooth-pulling scene.
"We started to do different tests with prosthetics and blacking it out and nothing worked," Helms told the magazine. Helms' dentist said it would be okay to take the implant crown out. "My dentist was really into it," Helms said. The rest is movie history!
Congenitally missing ("con" – together with; "genital" – relating to birth) teeth are inherited and actually quite common. More than 20% of people lack one or more wisdom teeth, for example. These would not usually be replaced if missing (in fact, wisdom teeth are often removed) but it's a more serious issue when the missing tooth is in the front of the mouth — and not just for aesthetic reasons.
When a particular type of tooth is missing, it disrupts the pattern and function of the teeth. If left alone, sometimes the existing teeth will shift to close the gap. It's like removing a brick from an arch — the rest of the bricks would fall together in a different formation (or collapse entirely). And when upper and lower teeth don't come together properly, they can't function well.
The best treatment for this type of situation is the one Ed Helms had: a dental implant. They look and function like real teeth and do not attach to or damage adjacent teeth as other tooth-replacement options might.
It is important that a child with a congenitally missing tooth wait until jaw growth is complete — different for every person but usually in the late teens — before getting an implant. Otherwise, the artificial tooth might eventually appear too short when the person has stopped growing. In the meantime, there are temporary tooth replacements that can be made.
If you would like more information about options for congenitally missing teeth, please contact us or schedule an appointment for a consultation. You can learn more by reading the Dear Doctor magazine article "When Permanent Teeth Don't Grow." Dear Doctor also has more on "Teenagers & Dental Implants."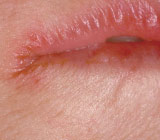 You may be suffering from an uncomfortable cracking of the skin at the corners of the mouth. This condition is known as perleche (or angular cheilitis). From the French word "lecher" ("to lick"), it derives its name from the tendency of sufferers to lick the affected areas.
There are a number of causes for perleche. It's found most often in children who drool during sleep, or in teenagers or young adults wearing braces. Older adults develop perleche due to the wrinkling of skin caused by aging; and anyone can develop the condition from environmental factors like cold, dry weather. Conditions from within the mouth may also be a cause: inadequate saliva flow; inflammation caused by dentures; or tooth loss that diminishes facial support and puts pressure on the skin at the corners of the mouth. Systemic conditions such as anemia, diabetes or cancer can dry out oral tissues and membranes, which may lead to perleche.
Our first priority is to treat any underlying infection. Cracked mouth corners are easily infected, most commonly from yeast called candida albicans. The infection may range from minor discomfort localized in the affected area to painful infections that involve the entire mouth and possibly the throat. Any of these can be treated with an oral or topical anti-fungal medication, including anti-fungal ointments applied directly to the corners of the mouth until the infection clears up. Chlorhexidine mouth rinses can also be used to treat minor yeast infections.
As for healing the cracked skin, a steroid ointment for control of inflammation combined with a zinc oxide paste or ointment will serve as an antifungal barrier while the tissues heal. If the condition is related to missing teeth or dentures, we can take steps to replace those teeth or ensure the dentures are fitting properly. Good oral health also goes a long way in preventing further reoccurrence of perleche, as well as dermatological techniques to remove deep wrinkles due to aging.
If you would like more information on perleche and other mouth sore issues, please contact us or schedule an appointment for a consultation. You can also learn more about this topic by reading the Dear Doctor magazine article "Cracked Corners of the Mouth."