Posts for: January, 2014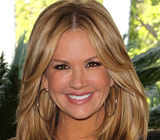 When it comes to sensitive gums during pregnancy, Nancy O'Dell, the former co-anchor of Access Hollywood and new co-anchor of Entertainment Tonight, can speak from her own experience. In an interview with Dear Doctor magazine, she described the gum sensitivity she developed when pregnant with her daughter, Ashby. She said her dentist diagnosed her with pregnancy gingivitis, a condition that occurs during pregnancy and is the result of hormonal changes that increases blood flow to the gums. And based on her own experiences, Nancy shares this advice with mothers-to-be: use a softer bristled toothbrush, a gentle flossing and brushing technique and mild salt water rinses.
Before we continue we must share one important fact: our goal here is not to scare mothers-to-be, but rather to educate them on some of the common, real-world conditions that can occur during pregnancy. This is why we urge all mothers-to-be to contact us to schedule an appointment for a thorough examination as soon as they know they are pregnant to determine if any special dental care is necessary.
Periodontal (gum) disease can impact anyone; however, during pregnancy the tiny blood vessels of the gum tissues can become dilated (widened) in response to the elevated hormone levels of which progesterone is one example. This, in turn, causes the gum tissues to become more susceptible to the effects of plaque bacteria and their toxins. The warning signs of periodontal disease and pregnancy gingivitis include: swelling, redness, bleeding and sensitivity of the gum tissues. It is quite common during the second to eighth months of pregnancy.
Early gum disease, if left untreated, can progress to destructive periodontitis, which causes inflammation and infection of the supporting structures of the teeth. This can result in the eventual loss of teeth — again, if left untreated. Furthermore, there have been a variety of studies that show a positive link between preterm delivery and the presence of gum disease. There has also been a link between an increased rate of pre-eclampsia (high blood pressure during pregnancy) and periodontal disease. Researchers feel this suggests that periodontal disease may cause stress to the blood vessels of the mother, placenta and fetus.
To learn more about this topic, continue reading the Dear Doctor magazine article "Pregnancy and Oral Health." And if you want to read the entire feature article on Nancy O'Dell, continue reading "Nancy O'Dell."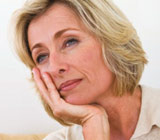 Many people suffer from problems with the temporomandibular joint (TMJ); this can result in chronic pain and severely limit the function of the jaw. Yet exactly what causes the problems, how best to treat them… and even the precise number of people affected (estimates range from 10 million to 36 million) are hotly debated topics.
There are, however, a few common threads that have emerged from a recent survey of people who suffer from temporomandibular joint disorders (TMJD). Some of them are surprising: For example, most sufferers are women of childbearing age. And two-thirds of those surveyed say they experienced three or more associated health problems along with TMJD; these include fibromyalgia, chronic fatigue syndrome, irritable bowel syndrome, rheumatoid arthritis, chronic headaches, depression, and sleep disturbances. The links between these threads aren't yet clear.
The survey also revealed some interesting facts about treating TMJD. One of the most conservative treatments — thermal therapy (hot or cold compresses) — was found by 91% to offer the most effective relief of symptoms. By contrast, the most invasive treatmentâ??surgeryâ??was a mixed bag: A slightly higher percentage reported that surgery actually made the condition worse compared to those who said it made them better.
So what should you do if you think you may have TMJD? For starters, it's certainly a good idea to see a dentist to rule out other conditions with similar symptoms. If you do have TMJD, treatment should always begin with some conservative therapies: moist heat or cold packs, along with over-the-counter anti-inflammatory medications if you can tolerate them. Eating a softer diet, temporarily, may also help. If you're considering more invasive treatments, however, be sure you understand all the pros and cons — and the alternatives — before you act. And be sure to get a second opinion before surgery.
If you would like more information about temporomandibular joint disorders (TMJD), call our office for a consultation. You can learn more in the Dear Doctor magazine articles "Chronic Jaw Pain And Associated Conditions" and "Seeking Relief from TMD."