Posts for: September, 2014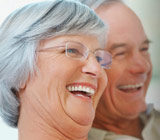 While dental implants are considered the gold standard for tooth replacement, removable dentures are still a viable choice, especially for patients with edentulism (complete tooth loss). Removable dentures have also undergone considerable advancement to improve their function, appearance and longevity.
But even with these advancements, dentures still require a fair amount of skill, experience and — of utmost importance — a sense of art. If you're considering this option, long-term success depends on a careful process of construction, fit adjustment and regular checkups to maintain that fit.
Our first step is to determine exact tooth placement on each denture. Using facial features (or photos before tooth loss) we establish placement landmarks so that corresponding upper and lower teeth align properly. We also consider tooth size, their orientation in relation to the lip, and the needed space to leave between the upper and lower teeth when they are at rest. We make these determinations based on accepted standards of beauty, but also taking into account your particular comfort level with any features that might alter your appearance.
The denture's gums must also look realistic when you smile, especially if your upper lip rises above the teeth to expose more gum tissue. We also want to match the color and texture of your natural gums, as well as incorporate palatal rugae, the little ridges behind the upper front teeth that aid with speech and chewing food.
When we first place the new dentures in your mouth, we may need to adjust them for balance between the upper and lower sets when they come together. An imbalanced fit could have an adverse effect on your ability to bite, chew and speak normally.
Your dentures should have a good, comfortable fit. Over time, however, you will encounter some degree of bone loss because you no longer have your natural teeth to stimulate bone growth and absorb the forces created during function when your teeth contact. This and other factors may cause your dentures to become loose and uncomfortable to wear. For that reason, it's important for you to visit us regularly to maintain that good fit and check the health of underlying tissues and bone.
Careful planning and denture construction help ensure your new dentures successfully restore form and function to your mouth. Regular monitoring will also ensure they continue to serve you well for as long as possible.
If you would like more information on removable dentures, please contact us or schedule an appointment for a consultation. You can also learn more about this topic by reading the Dear Doctor magazine article "Removable Full Dentures."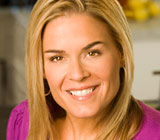 Cat Cora, philanthropist, author, chef, restaurateur and the first female chef on the Food Network's hit series Iron Chef America is a dynamo driven by a desire to change people's lives for the better. And she is no different when it comes to tackling her most challenging role: caring for the needs of her four active young sons. This includes monitoring the food they eat, their oral hygiene habits and protecting their teeth from injuries.
During an interview with Dear Doctor magazine, Cat describes a backyard accident in which one of her boys, Zoran, was accidentally knocked in the mouth by another child while jumping on the family's trampoline. While her son was not seriously injured, it did cause her to take proactive steps to avoid future injuries. She had her dentist make a custom-fitted mouthguard to protect his newly erupted adult teeth. He now wears the mouthguard while on the trampoline and when playing soccer.
If you and/or your children routinely participate in contact sports — boxing, football, hockey, lacrosse, soccer, water polo, rugby and basketball, for example — or other forms of vigorous physical activity, you too should consider getting a professionally made mouthguard. A properly fitted mouthguard can help prevent injuries to the jaws, lips and teeth. And unlike those cumbersome "boil and bite" mouthguards you can purchase at a drugstore, the ones we make will stay in place, making it easier for you to breathe and talk.
If you are still not convinced, consider these facts: According to the American Dental Association, an athlete is 60 times more likely to suffer harm to the teeth when not wearing a mouthguard. And the US Centers for Disease Control reports that sports-related dental injuries account for more than 600,000 visits to the emergency room each year. Furthermore, people who do not have a knocked out tooth properly reserved or replanted may face a lifetime cost of $10,000 to $20,000 per tooth, according to the National Youth Sports Foundation for Safety.
To learn more about mouthguards, continue reading the Dear Doctor magazine article "Mouthguards." Or if you are interested in obtaining a mouthguard for yourself and/or your child, contact us today to schedule an appointment. And to read the entire interview with Cat Cora, please see the article "Cat Cora."