Posts for: February, 2019
By Pearl Dentures and Dental Care, PLLC
February 17, 2019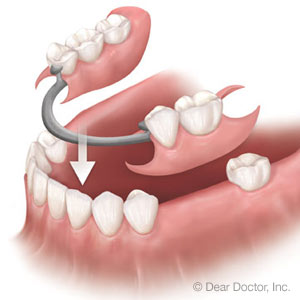 Modern dentistry offers several great ways to permanently replace missing teeth, including high-tech dental implants and traditional fixed bridgework. But sometimes, for one reason or another, it isn't possible to have these treatments done right away. If you need an aesthetic way to temporarily replace missing teeth, a flexible partial denture could be the answer you're looking for.
Certain kinds of removable partial dentures (RPDs) can be used as permanent tooth replacement systems, especially for people who aren't candidates for dental implants or fixed bridges. But in the past, if you needed a temporary tooth replacement, one of the few alternatives was the type of rigid RPD often called a "flipper." This consists of a firm, relatively thick acrylic base that supports one or more lifelike replacement teeth. It attaches to the "necks" of existing natural teeth via metal clasps, which gives it stability and strength.
However, the same rigidity and thickness that gives these rigid RPDs their durability can make them uncomfortable to wear, while the acrylic material they are made of is capable of staining or breaking. Over time, the RPDs are prone to coming loose — and they are also easy to flip in and out with the tongue, which gives them their nickname.
Flexible partial dentures, by contrast, are made of pliable polyamides (nylon-like plastics) that are thin, light and resistant to breakage. Instead of using metal wires to attach to the teeth, flexible RPDs are held securely in place by thin projections of their gum-colored bases, which fit tightly into the natural contours of the gumline. Their elasticity and light weight can make them more comfortable to wear. Plus, besides offering aesthetic replacements for missing teeth, their natural-looking bases can cover areas where gums have receded — making existing teeth look better as well.
All RPDs must be removed regularly for thorough cleaning — but it's especially important for flexible RPD wearers to practice excellent oral hygiene. That's because the projections that hold them in place can also trap food particles and bacteria, which can cause decay. And, like most dentures, RPDs should never be worn overnight. Yet with proper care, flexible RPDs offer an inexpensive and aesthetic way to temporarily replace missing teeth.
If you have questions about removable partial dentures, please contact us or schedule an appointment for a consultation.
By Pearl Dentures and Dental Care, PLLC
February 07, 2019
If you've had the misfortune of losing all or most of your teeth (a condition called edentulism), you still have effective options for restoring lost form and function to your mouth. There is, of course, the traditional removable denture that's been the mainstay for edentulism treatment for decades. If you haven't experienced significant bone loss in the jaw, though, a fixed bridge supported by titanium implants could be a better choice.
But what if bone loss has ruled out an implant-supported fixed bridge? There's still another option besides traditional dentures — a removable "overdenture" that fits "over" smaller diameter implants strategically placed in the jaw to support it.
A removable, implant-supported bridge offers a number of advantages for edentulism patients with significant bone loss.
Speech Enhancement. Any denture or bridge supported by implants will have a positive impact on speech ability, especially involving the upper jaw. But patients who've previously worn removable dentures may not see a dramatic difference but will still be able to benefit from the greater stability of the denture, particularly if the dentures were previously unstable.
Hygiene. A removable denture allows better access to implant sites for cleaning. Better hygiene reduces the risk of gum disease and further bone loss.
Long-Term Maintenance. Regardless of which type of implant supported restoration is used, it will eventually require some maintenance. A well-designed removable overdenture can make any future maintenance easier to perform.
Aesthetics. For personal satisfaction, this is often the ultimate test — how will I look? As a product of the evolving art of facial aesthetics, removable dentures supported by implants can replace lost tissues and restore balance to the face, and often produce a remarkable smile "makeover."
To find out which restoration option is best for you, you should first undergo a thorough examination to determine the status of your facial and jaw structures, particularly the amount of bone mass still present. Ultimately, though, the decision should be the one that best fits your functional needs, while fulfilling your desires for your future smile.
If you would like more information on tooth restoration options, please contact us or schedule an appointment for a consultation. You can also learn more about this topic by reading the Dear Doctor magazine article "Fixed vs. Removable: Choosing Between a Removable Bridge and a Fixed Bridge."