Teeth Whitening Treatments
There are many causes of tooth staining. Certain medicines, tooth trauma, root fillings and certain foods and beverages can cause tooth discoloration over time. Some discolorations are superficial while others are internal. Both can be effectively treated by a dentist; professional teeth whitening is the best option to safely lighten discolored teeth.

How does whitening work?
The teeth whitening process is possible "due to the ability of the carbamide peroxide and hydrogen peroxide to freely pass through enamel and dentin and to permeate to all parts of the tooth. The structure of the tooth is not altered; the internal tooth color is simply made lighter.

Will whitening affect bond strength?
Even though teeth whitening agents release a great amount of oxygen into the tooth, existing bonds are not weakened. If whitening before bonding, allow a period of 7-10 days after whitening. The high concentration of oxygen in the tooth could significantly and adversely affect polymerization of the resins.

How long does the whitening last?
Bleaching results are very stable, but depending on the patient's nutrition and lifestyle habits, the procedure may need to be redone periodically. Due to the safety of the whitening agents, this should not cause concerns to the dentist or patient.

Will whitening causetooth tooth sensitivity?
Tooth sensitivity is a reasonably common side effect of whitening. If sensitivity occurs, it is transient and disappears after the completion of whitening.

Will whitening cause problems by weakening the tooth's enamel?
Findings on the Opalescence PF product line presented at the American Association of Dental Research confirm that whitening with Opalescence PF will actually minimize sensitivity, provide anti-caries benefits, increase enamel microhardness, and improve overall enamel health.

Tooth whitening treatments today are effective/efficacious and safe if they are used appropriately and with the correct materials. This includes an initial diagnosis, professional teeth cleaning, briefing on the whitening process to be used and monitoring of the patient during the treatment phase. Self-treatment by the patient with over-the-counter (OTC) products often does not provide the results desired. Therefore, all products of the Opalescence system are medical products and are dispensed or released only by dental practitioners.
For more information on Teeth Whitening in the Granbury, TX area call Pearl Dentures and Dental Care, PLLC at (817) 579-7297 today!
Related Teeth Whitening Articles
Teeth Whitening – Brighter, lighter, whiter...
The subconscious impact of a white smile is radiant health, happiness, warmth and invitation. This phenomenon has been reinforced with the spread of American culture worldwide, where an especially white smile has even been coined a "Hollywood smile." Today brighter, lighter, whiter teeth have become a norm. Tooth whitening by bleaching is a successful, conservative, relatively inexpensive and safe alternative... Read Article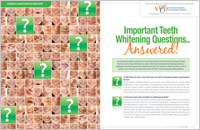 Important Teeth Whitening Questions Answered!
In Dear Doctor's interview with nationally noted teeth-whitening expert Dr. Van B. Haywood, he answers questions about bleaching techniques and safety in achieving the best possible results. If you are thinking about getting your teeth whitened at your dentist's office or doing it yourself at home, this is a must-read... Read Article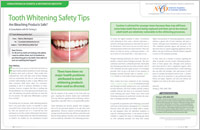 Tooth Whitening Safety Tips
There have been no major health problems attributed to tooth whitening products when used as directed. Many studies have confirmed this, and we will share some of these findings with you... Read Article